Last updated on February 21st, 2021 at 05:44 am
Yes, there are lots of screaming deals about Framing Nailers that lure a beginner always. But if you are opting for a framing nailer only because it is cheap, you will replace it in a month or two.
A well-made, professional framing nailer should work consistently, project after project, without any flaw. It drives a lot of nails efficiently without jamming issues.
In fact, if you are buying it from a professional company, you can use it for big projects and sink thousands of nail every day accurately.
Today we have a wide selection of framing nailers tailored to fit our exact needs. Narrowing those options can be a tough decision as every model promises great results.
If you are also in a complex situation don't perceive how to choose the right framing nailer, we have some exceptional tips for you to choose the right one for your needs.
Framing Nailer Types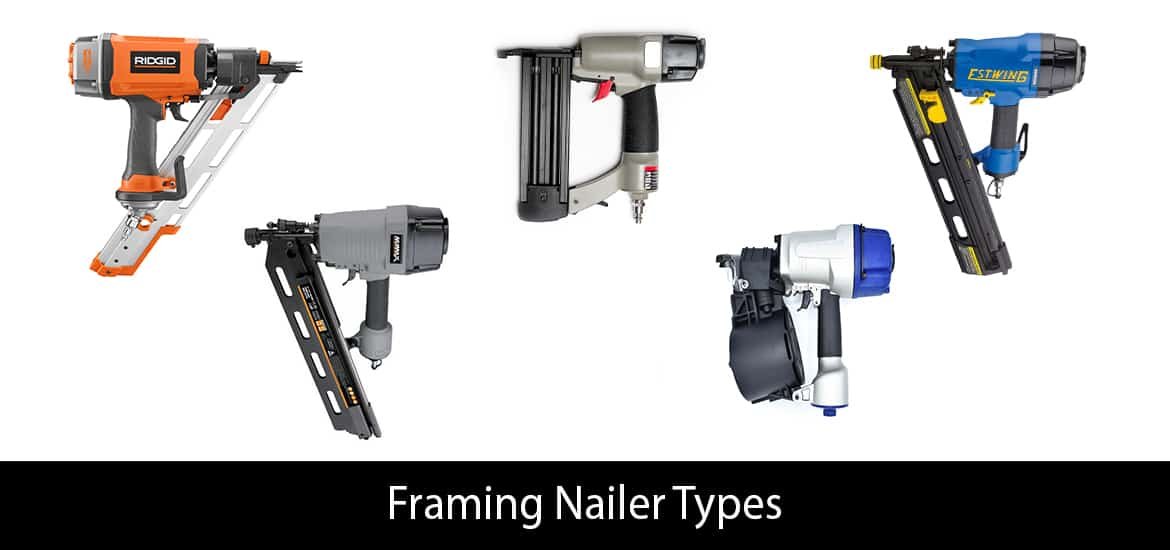 Framing nailers come in different types.
It is important to comprehend the key difference between them in order to choose a model according to your project's specific needs.
The first type is 'Pneumatic'.
It is operated by compressed air from an air compressor. This is one of the common types as well which you will find in most shops and online stores.
In this nailer, you have an air verve which you have to connect it with the air compressor to make it work. Once it is connected, all you need is to pull the trigger.
The air from the compressor drives the nail into the wood or lumber with appropriate force. This function happens within a second. You should choose a Pneumatic model if you are working on heavy-duty framing applications.
Next, there are Cordless or Electric Framing Nailers.
As the name suggests, both of these nailers aren't operated by an air compressor. In these nailers, the professional manufacturers use the combination of charged batteries and fuel cartridges. Both of these factors assist in powering the nailer.
Though you can use these types for utterly professional, industrial work. But they are mostly perfect for small DIY projects.
If you are interested in wood working as a hobby, you should opt for an electric framing nailer. It is often lightweight and easier to use.
There is another type, known as 'Brushless Framing Nailer'. It comes under the category of cordless. It is also powered with the use of batteries only.
The best thing about the Brushless models is they require very less maintenance. You don't have to deal with jamming issue time and time again, particularly if you are buying this from a reputable company. Second, they are very convenient to use as well.
Understand The Degree System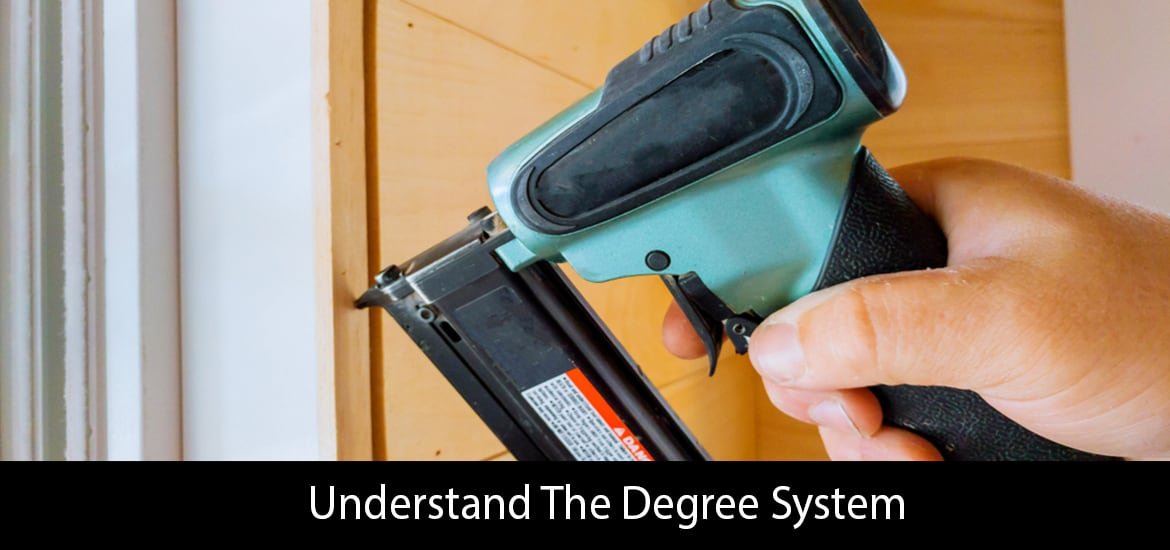 The degree system of a framing nailer can create a difference.
In a market, you will find three different kinds of degrees – 21 Degree, 28 Degree, and 30 and 34 Degree.
Unfortunately, most brands don't publish the degree system of their nailer on the product page, and sadly most new buyers don't perceive about this system too.
In case there isn't any detail about the degree system, you can ask directly from the customer support team too. They can indeed tell you about the degree of their model and its benefits too.
The 21 Degree Gun magazine is designed in steps with the angle of the nail clip. In this gun, the clip and the nail head is strip together through a plastic strip.
In 28 Degree Gun, there is a wire that holds the nail strip, not the plastic strip. This degree is usually helpful for those who work in tight spaces and corners. The greater angle will facilitate you in driving nails in the exact spot.
Lastly, the 30 and 34-degree gun use a full head nail. It has a paper strip that holds the nails in the clip. The great thing about this degree guns is they are little lighter carry.
You won't feel any stress on your arms and shoulders. Furthermore, the performance of these guns is up to the mark as well.
Please, remember that usually, brands don't have all the degree system in their lineup.
If you are pro and looking for some specific degree system, you perhaps need to change the brand. For example, the Bostitch Brand Gun is famous for producing 28-degree guns only.
The Firing Methods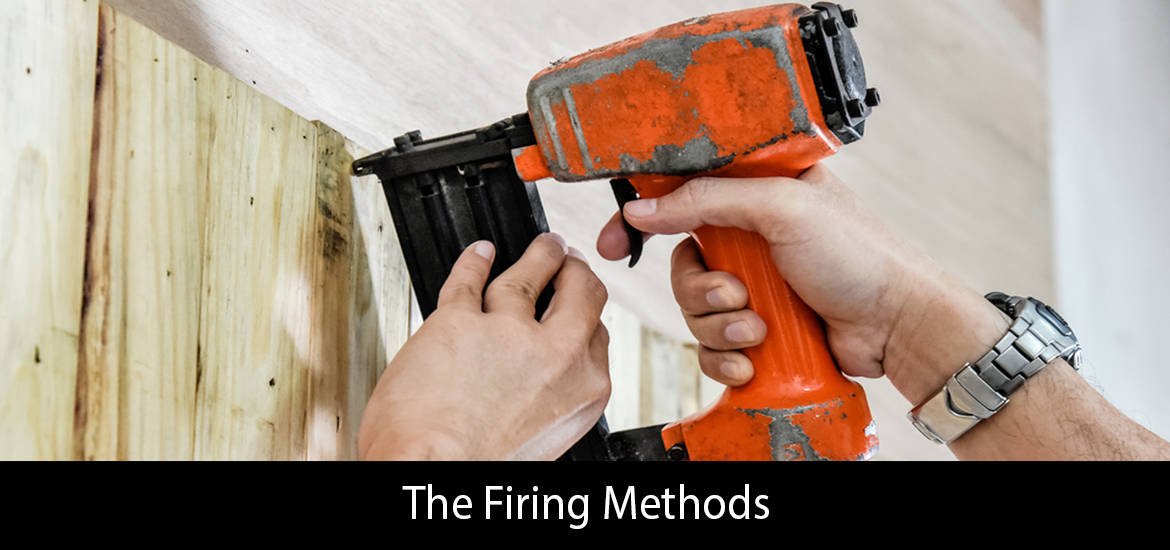 Framing nailers have different firing methods.
Understanding them well and using them according to your needs will help you in avoiding accidental firings. Some nailers have one specific style, while others come with different options. It is entirely up to you which firing method in a nailer you are opting for.
The first firing method is 'Contact Firing'. It is also known as 'Bump Firing Method'. In this method, as long as you are holding down the trigger, it will be firing nails consistently. However, you have to make sure the tip of your nail is pressed against the surface.
Mostly, the professional carpenters and workers use this method, as they are pro and want to speed up their production work.
The second method is 'Single-Sequential'.
The single-sequential method is perfect for beginners. You have to operate the tip of the nailer and trigger in sequence to fire the nail. There is also a 'Full-Sequential' method too. Though it is a tad different than single-sequential. In full-sequential, you must release the tip and trigger and reactivate them again to fire the next nail. This method takes time, but it can be considered the safest method in the framing nailers.
Concluding Thoughts
It doesn't matter whether you are buying a framing nailer for the first time or the tenth time for your professional-level work. Keeping these three steps in mind will facilitate you in choosing the best and perfect model for your project.
Lastly, don't forget to check operating pressure of your desired framing nailer. The pressure rating should be like 70 – 120 psi.
Usually, novices and professionals, all of them work on 90 psi pressure, but have more options is a desirable feature that assists in special projects.